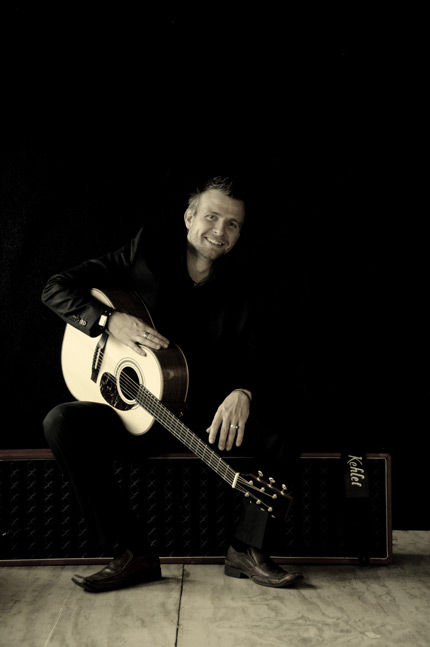 When songwriting becomes a life-style
If you ask Claes Cem what kind of music he plays, he will
smile and say "Modern Folk-Pop".
Listening to his guitar-driven songs, it does not take long to
realize that his songs have been shaped by a life on the road.
His work is heavily inspired by the lyrical world of singersongwriters
such as Paul Simon, John Martyn and Darrell Scott.
It contains no frills - just pure music .
In search of these
folk influences, Cem spent years in Scotland working the
grueling grind of open mic nights combined with endless
club and bar gigs. Following the return to his native
Denmark in 2007, Claes coupled his energetic playing and
singing style with his original arrangements and began
working with other musicians who shared his passion for
original music.The result both broadened and simplified his
outlook."After gigging with so many musicians and different
instrumentations I found out that the songs, and their
arrangements, were flexible and work well with anything
from a solo set-up to a full six-piece band. This is exciting as
it gives me far more options when performing live", says Cem.
In addition to winning " Best Singer " at the 2008's
Emergenza contest in Copenhagen , Cem also returned to
Scotland the following year for a 40+ concert series.
2009 also saw the release of a new single "Freak Without a
Frame", which brought Cem to the attention of Grammy
Award winning engineer/producer Carlos Bedoya . Bedoya's
past collaborations range from megastars like Mick Jagger,
Missy Elliot to Beyonce. Together the two have worked to
produce the just released "Californian Babe" EP which echo
the experiences Cem discovered on a recent trip to the
United States.
As he notes;
"Songwriting is an adventure in human observation."
2010 found Claes Cem, the modern troubadour, trekking
the world musically sharing his inspirations.
Arriving in Nashville , " Music City "
USA – Claes met award winning music publisher , Gigi de Lugo.
After hearing his songs and getting to know what a vibrant and unique artist Claes is, Gigi signed Claes to a songwriter/publisher agreement and a record deal through her Tropic Heat Studios Entertainment Company.
Gigi is a fourth-generation islander from the U.S. Virgin Islands, a once Danish Territory, and her Tropic Heat Studios has plans to record part of Claes' next album on the island of St Croix and simultaneously launch his U.S. career from both the Virgin Islands and Nashville,TN.
Claes has already been co-writing songs for his next album
with award winning songwriters in Nashville.
The album is due to be released in Spring of 2011 through Tropic Heat Studios in the United States and Your Favorite Records in Denmark. Following the release of the album a U.S. tour is being scheduled that will take Claes across the U.S. and to Denmark , and Europe.
Kehlet Guitars used by Claes Cem:
Kehlet Folk Basic - Flamed Walnut
Kehlet Koncert Deluxe - Brazilian Rosewood